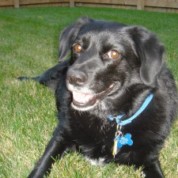 Experience and Training
Barrie Finger, CDBC, CPDT-ka, has been training dogs in the Denver metro area for over 17 years. She is a Certified Dog Behavior Consultant with the International Association of Animal Behavior Consultants (IAABC.com), a Certified Professional Dog Trainer (CCPDT.com) and a member of the Pet Professional Guild. She regularly attends animal behavior conferences and seminars, meets with other local trainers, and constantly reads books, articles and journals to keep current on the exciting advances in the fields of animal care, training, and behavior.
Barrie's training philosophy is positive reinforcement based, focusing on strengthening the relationship between dog and human to foster mutual respect and communication and promote reliable behavior.
What Is the IAABC?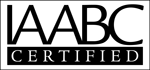 "The IAABC promotes professionalism and continuing education in the field of animal behavior.  Animal behavior consultants respect the client's right to self-determination and embrace a non-judgmental approach. Our certified members are required to demonstrate competency in six core areas including assessment and intervention strategies, counseling skills, behavioral science, knowledge of animal behavior, and species-specific knowledge."
www.iaabc.org
What Does "CPDT-KA" Mean?
"The Certified Professional Dog Trainer ("KA"=Knowledge Assessed) program is an internationally recognized certification program for professional dog trainers based on humane training practices and the latest scientific knowledge related to dog training. CPDTs have earned this credential by demonstrating their knowledge and experience in dog training.


Certified Professional Dog Trainers maintain their credential through continuing education by attending workshops, conferences, and hands-on seminars for professional dog trainers. This continuing education requirement ensures that CPDTs are knowledgeable about the most current thinking, research, and techniques in the field."
www.ccpdt.org
The Pet Professional Guild
The Association for Force-Free Pet Industry Professionals
The Pet Professional Guild is a membership business league representing pet industry professionals who are committed to force-free training and pet care philosophies practices and methods. Pet Professional Guild Members Understand Force-Free to mean: No Shock, No Pain, No Choke, No Fear, No Physical Force, No physical Molding, No Compulsion Based Methods are employed to train or care for a pet.The Pet Professional Guild also offers a FREE membership for Pet Owners. Join us today and support our cause. Pet Owner Members have their own membership benefits.